ai_ney
Ultra ALPHA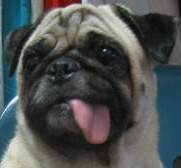 Mar 17, 2005, 12:58 AM

Post #2 of 4 (1134 views)
Shortcut

Re: [in] How many times a day do dogs poo? [In reply to]
Can't Post

---
hi in,

each dog is different... i think u would hv train your dog to poo at certain time when u r free to take him out for walks... maybe once in the morning and once at night?

if your dog is an adult, they can hold their pee n poo better and once he gets used to your schedule, he will only poo when you bring him out for walks...

my dog poo twice a day... in the morning she poo inside the house at her designated area, even before her meal... in the evening i take her out for a walk and she would also do her business then...




Sookie's Photo Gallery
DON'T BREED AND BUY, WHILE HOMELESS ANIMALS DIE.
EVERY DOG SHOULD HAVE A HOME.