Cutely Baby
Dog Kichi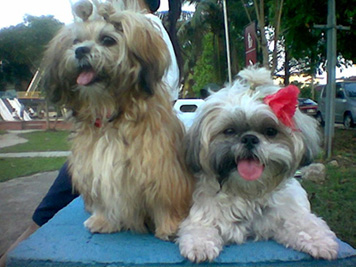 Jun 22, 2005, 11:39 AM

Post #9 of 10 (1226 views)
Shortcut

Re: [Zizi] Who can told me this is wht breed? [In reply to]
Can't Post

---
haha...sorry for late reply,coz busy to work...last time i bring xiao xiao go see doc..doc say mybe she is maltese mix shih tzu! anywhere i sayang her so much too...

i also cannot contact her owners too..coz last time is her owner dun want her..so my frn call me to adopt her...than nw i with her owner also dun hv any contact!

i jst know xiao xiao change 3 owner aledi...the first owner sis buy xiao xiao be the owner gift...but the owner dun like dog..so give 1 auntie ,the auntie also no time to take care...jst took her same like 'ye gou'(not home dog),so my frn call me adopt xiao xiao...i didn't see xiao before...i jst say ok..than they bring xiao come my house! very surprise!she very tiny!!!! now she with my Baby be a good sister aledi! very happy abt that!!

xiao xiao very smart n clever too...very happy can hv xiao xiao in my life...sometimes she still very scare plp ,but i will try my best to take care her n give her a full love! will not be a bad owner same like her last time owner like that!

...abt she is mix or pure also nvm...i still very love her...Xiao...mummy love u n baby forever!