nicky_spykeaz
Doggyman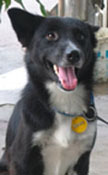 Dec 13, 2004, 6:17 AM

Post #6 of 48 (7878 views)
Shortcut

Re: [nicky_spykeaz] guess i am not alone here....my dogs fight [In reply to]
Can't Post

---
Hi, well as i post a story of my puppies in the dominant section, after a throughly observation and some so-called pro help, i think i know why my two dog fight in the past. Because of the area i live at, there is alot of male stray dog in the neighbour. And there is this 4 male dog that like the company of my female dog, Dotcom, as you know what i mean. Since i have restricted her move about because the pack of male will resist the other male dog i have, Bobby, same breed in mixing with them. Most of the time, Bobby come home will injuring. The funny thing is, Dotcom will not allow Bobby to do what ever the stray male dog do to her. Because of this there is always a tension between them. My question was, how can i train my female dog to resist other male attention. Because of this issue, in the future, i might spayed the female because i do not want any addition to the family yet. I can control Bobby but not the stray dog. Can any one help? And how i can train to understand the meaning of no when come to her sister, Dotcom?

Cheers ya,

Nicki the Devil live by the reputation of the name



boBby is a craz3 car PassaNger
Fat FaT other case Elegant Car GuEst
What make Me?
A LoYal huMan Driver....



NoBody is Prefect, Guess What i am Nobody
Nice to meet YOu

(Bobby+Nicky craze JT memBer)

BoBby San DogstEr
http://www.dogster.com/?158414
http://spykeaz-devil.blogspot.com/