vinkuan
Enthusiast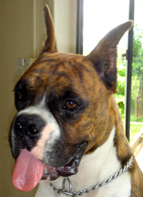 Apr 19, 2005, 6:09 AM

Post #11 of 13 (2990 views)
Shortcut

Re: [PSY] MINI BOXER???HELP!!! [In reply to]
Can't Post

---
Hi,

food huh, about 1,000 mg of vitamin c (get those with just vit c) for joints, chicken neck, raw if possible if not half cook. Hey, you will have great dog. Oh, Vit C once every two days, chicken neck once or twice a week, everytime two necks at a time with his meal and instead of milk, yoghurt, non flavoured type or natural, everyday if possible.



Hi, I just read some other boxer forum, and they do mention about chicken neck, but seems like they are giving all raw chicken neck instate of normal kibbles of the meal. And non actually mention what we need to do with that? Shall we chop it?? or place in food processor 1st?? Or just go and get the chicken neck from the Pasar will do?? What about the chicken skin?? Will the chicken neck bone harm a 4 months old puppy?

I read some article and they mention not to mix raw food and kibbles together. Since that they digested at a different rate. (they just mention not to do this, but never tell what's the result) How true is this?

Please advice. Sorry if my question are too stupid.



===================================
===================================

Photos.......(Last Update- 08/09/05)
http://pg.photos.yahoo.com/ph/gordenthebox/


===================================
===================================