aragorn2976
Ultra ALPHA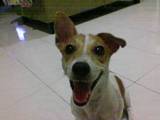 Nov 1, 2004, 6:59 AM

Post #24 of 28 (4939 views)
Shortcut

Re: [vicfion] St. Francis of Assisi Mass for Animal Lovers & Their Pets [In reply to]
Can't Post

---
Oh wow!!

1st of all, congrats on the upcoming new addition to the family!!

Hmmmm... That is a large brood. The other day, I rescued a kitten from the parking lot in my office building. I had to give it up to PAWS since no one wanted a kitten. My sis thought that it would have been a good idea to bring it home... but *sigh*.. Snoopy hates cats.

Not only that, the matriach of my home (my Mom) doesn't like cats as well..

So, out of the question...

Thought of asking my cousin to adopt it but she's having her SPM for now, so, best not to distract her with a kitten... She lost her cat some time back and was hoping to get a "Putih III" later..




Anyway, am sure that the house would be so much livelier once the baby arrives...


---



Join the JRT Zone


Beloved, let us love one another, because love is of God; everyone who loves is begotten by God and knows God. - 1 John 4:7 (Oofy's motto)