Admin
Moderator




Sep 2, 2004, 5:55 PM

Post #1 of 24 (18941 views)
Shortcut

Purina ProPlan Puppycom Agility & Obedience Training
Can't Post

---
We are pleased to take this opportunity to announce that Purina ProPlan and Puppycom has formed a smart partnership to launch Purina ProPlan Puppycom Agility Training in Malaysia.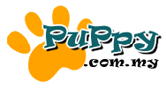 The Agility Training will be implemented in stages and will be offered to Puppycom Members who has gone through some basic dog obedience training and is able to control their dogs on leash and off leash.
The first batch of Obedience Trainee that will be trained from September 12, 2004 will be given a chance to participate in the Agility Training in the near future.
We are glad to have Mr. Tan Pak Song from Singapore who will be here regularly to assist us in the implementation of the Agility Training in Malaysia.
To know more about Agility Training, read here