musashi
ALPHA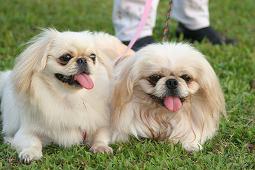 Aug 28, 2004, 7:40 PM

Post #12 of 186 (8886 views)
Shortcut

Re: [chrisong] Jungle Trekking @ Tmn Pendidikan Bkt Gasing on August 31st, 2004 - ROUND 25 !!! *MERDEKA TREK* [In reply to]
Can't Post

---
Merdeka trek for those who cant make it for the Saturday Trek.

NOTE : Do put your dogs to be on-leash at all times & Pick up after your dogs poo.

Date : August 31st, 2004

Meeting Venue : Taman Pendidikan Bukit Gasing

Time : 7.30 am

into the jungle by 7.45 AM pls note that we will not wait for anyone who is late....as we do not want to attract anymore unwanted attention from none dog lover. I hope you can understand .... so pls be punctual.

Join us in the list below :

1. Ming Yang only.
2. Chris & Ming Yien with 3 Silky
3. Rocky +Kiyomi & "Taro the palyboy"
4. Ms Foo & Taro the Junior
5.

Direction 1 :

From Padang Merbok's roundabout use the way towards Telekom. After driving passed Telekom on your left you will see a row of shoplot and signboard of a restaurant called "Lotus". Just before Lotus Restaurant, on your right, you will see a Chinese Temple and there is a junction. Turn right. After turning do go all the way straight for about 200 – 300 meter and there should be a playground of some sort and you can park your cars there. There should be a signboard that says : Tmn Pendidikan Bukit Gasing.

Direction 2 :

Beside the Lasalle School, there is the Raju Restaurant – go straight all the way up and you will reach a T junction. At the T junction do turn to your right and go all the way straight you should be able to see the playground.

Things to take note of :

1. Dogs have to be on leash/harness on all times.
2. Please pick up after our furkids poo.
3. Bring plastic bags
4. Bring water for human n for furkids
5. Wear stockings
6. Have a good pair of walking shoe or sneakers.
7. One dog per person is highly recommended as it's a real jungle trail.
8. Don't wear too short a shorts if you are afraid of being scratch by the bushes and donating blood to the mozzy ya ! ;)



Since so few reponded,I join in lah,have to sacrify my sleeping hours lol

Ms Foo, I voluntery put your name huh,don't "fong fee kei" huh !



I am the man with dog's name