MisterStan
Doggyman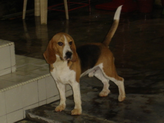 Jul 27, 2004, 5:47 PM

Post #3 of 29 (5252 views)
Shortcut

Re: [ohmybeagle] Sale in Pets Wonderland 1 utama!!! [In reply to]
Can't Post

---
I went there just to buy some bones for Henry to bite.. His teeth is very very itchy. Biting us all at home....

ANyone of you would know where to get varities of crate for a reasonable/low price..... I am looking forward to get one for Henry. The current cage is couldn't fit him. Boy, he is getting bigger.... 1 utama Pet's wonderland the plastic crate are expensive, ranged from rm400 - rm700... the metal cage, black in color, big size, cost around Rm250. I wanted to buy the RM250 metal cage, but not sure is it cheap or expensive.. And the plastic crates shapes like a house..Which is recommended for my Henry.....

I wonder those dogs sold in 1 utama are mentioned that they are imported from australia... Are they really imported from australia???Curious!!!!