de_jun
Enthusiast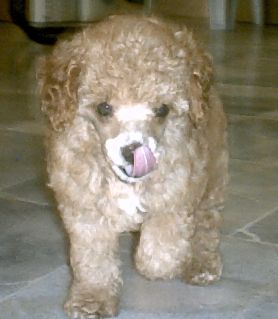 Mar 19, 2004, 8:09 PM

Post #22 of 52 (3636 views)
Shortcut

Re: [cnfs] Shih Tzu - Recommend me! [In reply to]
Can't Post

---
Morning cnfs

Good to see u around.....so wht is ur profession? in IT line? Well, taking care of one puppy is hectic enuf, and u want to double it? getting a pair is sure good, they can be each other's companion, but a lot of responsibility too ....me and my bf (chris ng lah) has 2 doggies....dalmation and poddle ....and taking care of both of them occupies most of our time....i think it would be a bit heavy for u if u dont have anyone to help u loh....will pengsan one....heheheheh...I guess u have made the right decision bout not letting the young furkid alone at home...they need time to adjust to the new environment and their new owner at least for a week loh.... Shih tzu is a very good indoor dog :), i mean they can be left alone at home all the time....mayb sometimes they can be a mischief but that is the norm loh...hehehehe but i cant really provide u information on shih tzu ah :P coz i dont have one....mayb u can ask the experts in the shih tzu thread...

Anyway, my colleague ownes a flat face shih tzu named joey :), he is very obedient one....stays at home alone when my colleague is away for work...during office hour my colleague will put him inside his crate...other than that he is allowed to roam freely...joey seldom barks.....so if u stay in the apartment u dont have to worry it would disturb the neighbour ..now joey is 5 month plus ...sometimes my colleague will let him board at my house and play with my little poodle...(they were bought on the same day, so they sort of grows up together ).

hmmm bout poddle...they sure barks a lot more than shih tzu...but normally they bark only when their is a reason to :)...little daisy only barks when she sees strangers around and at the stray dogs...besides that, she is as quiet as can be

well all i can say is only good luck :) and have fun hunting for ur dream dog

p/s: attached a pic of joey and little daisy.

---
Wanna to be a member of Poodles' Friendly Gang? Pls click here !
Poodles' Friendly Gang List
Daisy and Phoebe