ai_ney
Ultra ALPHA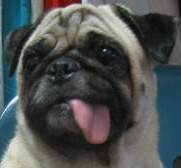 Feb 18, 2004, 8:11 AM

Post #2 of 5 (1593 views)
Shortcut

Re: [gethsamane] My shih tzu having bladder infection [In reply to]
Can't Post

---
u have sent him to the vet twice and no improvement?

first of all, is it a bladder infection? or could it be due to crystals or stones in the bladder? what did the vet say? did the vet take an x-ray of the bladder?

if it's infection, then oral medications by the vet should solve the problem... if it's crystals or stones, the vet will need to advise if a change of diet can help or would going for an operation is the way out...

by what u said... ur shih tzu can't urinate and u think he's going to die... sounds really serious... please bring him immediately to another vet who can and know how to help...

my dog had bladder stone, went thru an operation and stone had been taken out... u can email me at ai_ney@hotmail.com to talk further...




Sookie's Photo Gallery
DON'T BREED AND BUY, WHILE HOMELESS ANIMALS DIE.
EVERY DOG SHOULD HAVE A HOME.