ai_ney
Ultra ALPHA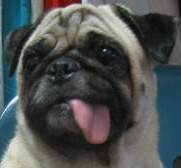 Feb 13, 2004, 8:19 AM

Post #8 of 15 (1749 views)
Shortcut

Re: [versus] any bulldog fans here? [In reply to]
Can't Post

---
yeah i read about their drooling! how ar? everyday must mop floor lor?

i guess puppies will be puppies, no matter what breed, pups are always very playful!



i can imagine popeye being able to cheer u up when u r down, just by looking at him... my pug, sookie, is also my de-stress... when i come home from work and i see her, all my stress gone for the day!



go and find u ar? i will try to plan for it... but not so soon... otherwise u must go to the next KK gathring ok? we'll meet there... and MUST bring popeye!



btw, i like daschunds too...




Sookie's Photo Gallery
DON'T BREED AND BUY, WHILE HOMELESS ANIMALS DIE.
EVERY DOG SHOULD HAVE A HOME.


(This post was edited by ai_ney on Feb 13, 2004, 8:19 AM)