Elly
ALPHA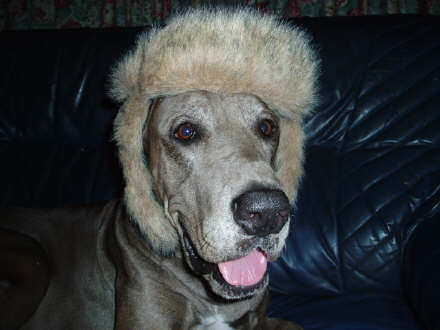 Dec 18, 2002, 7:26 AM

Post #5 of 12 (3572 views)
Shortcut

Re: [HWONG] Dog Breeds under the Working Group [In reply to]
Can't Post

---
Hi Hwong,

I do have a dane and she is 2 yrs old now. Well, before I got my dane, friends were telling me not to get as they eat a lot, got temperement problem ...stuff like that.

After all, I would definately say, I will get another Dane if she die next time (touch word

). She is so attach to me and really a very obidient dog. I would say she is a gentle giant. Dane loves to sleep on a couch. Wherever there is aircond, there goes my Lady. She will sleep like nobody business.



My dane did had a problem once where her coat got dandruff, lossing hair stuff like that. All you need to do is, get your dane a T-tree soup. It will cost you only 3-4 bucks. Take bath for her everyday with warm water (33-35 degree). You will see the results within days. After that, just take like once in 2/3 days.

You can actually revise back my posting coz I did post my problem and Uncle Derrick and Boon taught me this.

My dane is a Blue Dane. Maybe whenever u r free, can always drop by my house to take a look. She is fine with human beings..not with hairy dogs. I do have a basset as well. Sasha (Basset Hound) came into the family 6 months ago. Lady loves her so much. She will clean her ears every now and then.

But of course used to fight lah last time...



I will bring Lady to the Xmas party on this coming Saturday. Will you be there? Maybe we meet you there then.

Till then, Cheers mike! Anything if you feel like asking, get reach me thru msn messenger and Icq

msn: ellyssc@hotmail.com

icq#: 120121808

Regards,

Elly