chansaire
Dog Kichi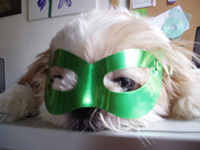 Jan 19, 2004, 9:49 PM

Post #1 of 5 (1155 views)
Shortcut

cheong-sam for shihtzu! collect more angpaus!
Can't Post

---
hello! gong xi fatt chai to all!
HEHE.. this year i bought a cheong sam for my Baby, and a nice small bag for him so he can collect ang paus too!
HEHE! last halloween he had a princess costume also.. looked so cute.
a lot of pple said i torture my dog - -;;... but he really loves to dress up and pose for the camera! hehe!
anyway, once again.. happy Chinese new year to all dogs and owners!
"some friends come, some friends go- others leave a paw print in your heart, and you're never the same again."