ai_ney
Ultra ALPHA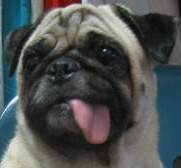 Dec 22, 2003, 7:35 AM

Post #2 of 9 (11663 views)
Shortcut

Re: [ann ford] help my dog has gone blind [In reply to]
Can't Post

---
hi there,

is ur shih tzu completely blind?

from what i've read and learnt, ur shih tzu would do just fine in ur house if she's been living there for some time... this is becoz she would be familiar with her surroundings and would not have problem finding her way around the house... also, unlike human, dogs' primary sense is smell... so she'll sniff her way around... i think the puppy would be a good guide dog for the blind shih tzu...

send my hugs to both ur shih tzus...




Sookie's Photo Gallery
DON'T BREED AND BUY, WHILE HOMELESS ANIMALS DIE.
EVERY DOG SHOULD HAVE A HOME.