Amanda85
Doggyman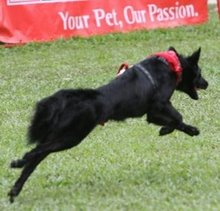 Nov 7, 2003, 3:06 AM


Views: 6806

Re: [gaudygoddess] Jack Russell Terrier - Behaviour

---
Frequently asked QuestionsWhat famous Jack Russell Terriers would I recognize?
"Eddie" on the television show Frasier. He is a rough coat. "Milo" from the movie "The Mask" is a smooth coat. The puppy in the RCA commercial. "Barkley" from the movie "Clean Slate" with Dana Carvey. More recent has been a terrier in an MCI commercial. Also, the Nissan commercial has a JRT in it, and there is a pizza commercial where a JRT and a shaggy dog lick sauce off a giggling child's face. The PBS show "Wishbone" features the JRT Wishbone.
How much should I expect to pay for a Jack Russell Terrier?
Most breeders are charging anywhere from $350.00 to $600.00 for a puppy. Don't forget all the other costs involved with owning a dog -- vaccinations, neutering/spaying, food, toys, crate, home improvements (better fencing), books, obedience classes (a must!), etc. You might be able to adopt a Jack Russell from Russell Rescue for a lower up-front purchase price.
Are Jack Russell Terriers really as energetic as they seem?
Jack Russell Terriers are very energetic dogs, with a big need for regular exercise. They are working dogs, and need to have a job, whether it be keeping your yard free of rodents (digging is normal and common, since they are bred to dig after quarry), chasing a ball, or going for a run or long walk with it's owner. Sitting on the couch peacefully all day is not in a Jack Russell's agenda. They require more of a time commitment than some breeds.
Because they are small, they seem ideal for living in an apartment. Will a Jack Russell be happy in an apartment situation?
Given the exercise requirements of the Jack Russell, a home with a large, fenced yard is more appropriate. They do not take well to inactive, sedentary lifestyles. However, if you are at home during the day or are able to provide regular exercise, it may work. They need a 5-6 foot high fence, since they are known to jump, climb, and even dig under fences. Many of the Jack Russells in the Rescue are there because the owner underestimated the attention requirements of the terrier. Author's note: I work 8 hours a day, and my JRT is home alone for this time. She does fine in a small dog-proofed room, and doesn't seem unhappy about her situation.
Will a Jack Russell Terrier cohabititate with my cat/small pet/young child/horse?
Cats and other small pets (rodents) will usually not work with a Jack Russell because these dogs are first and foremost hunting dogs. They see the cat or hamster/rat/guinea pig as prey (quarry). This is not true for all Jack Russells, and if brought into the household as a pup, most could be trained to live with a cat. Many Jack Russell owners are horse people. Jack Russells are not herding dogs, so the horse isn't of interest to them. Children under the age of six can be a problem, unless the child is taught how to properly handle the terrier. Having the natural assertive terrier characteristics, however, the Jack Russell will not put up with even unintended abusive behavior from a child. This should be carefully considered, particularly with children under six.
Are Jack Russell Terriers dog aggressive?
They can be very aggressive with other dogs (not just other terriers), and in certain cases, more than two terriers shouldn't be kept together unattended. It is very important that prospective Jack Russell owners understand this sometimes harsh part of the terrier's nature.
Can I train the hunting instinct out of my Jack Russell?


To be blunt, perhaps you should consider a different breed if you don't wish to have a hunting dog. Jack Russell Terriers can be difficult to deal with because they are true hunting dogs. They should be kept on leash when in rural/country areas, because if they take off after a ground squirrel or other quarry, they will not hesitate to dig and go underground. Terriers have been known to stay underground with their quarry for days, with no food or water.

by stephanie davis


Pacco de Mongrel
~ Come and join us for a doggie jungle trekking @ Bukit Gasing every Saturday morning ~