woof
Dog Kichi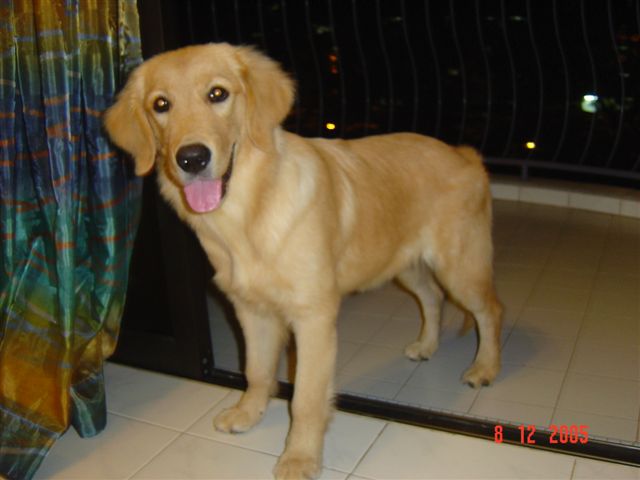 Jul 24, 2006, 9:45 PM


Views: 840

Re: [jeffreyyingwah] my puppy just don want poo in the toilet

---
Hi Jeff



GR are very playful dog, they are smart but when they are puppies, you need a lot of patient with them. Couple of things you gotta make sure before toilet train your dog, is the timing of peepoo when your dog gotta go, normally it's early in the morning when u wake up, about 7-730am, depends on dog, and normally it's after meals, puppy normally is twice a day. To toilet train a dog to peepoo in the toilet, there's a few suggestion for you to try:

1. You gotta monitor your dog closely everytime it need to go, once u sense it almost pee or poo, in great speed you gotta take it to the toilet and close the toilet door, let it do it inside, once in a while check on it, never let it out until your dog settle the bizness, but u gotta watch it closely, as once they hef done it u gotta let them out fast, if not they will run all over the toilet with the poo all over them, if they hef done correctly, remember to praise them like CRAZY !!

2. After each meal, immediately, put it in the toilet, never let it out until it poo or pee, den if your dog done it correctly, praise it like CRAZY !!

Note that dog can only differentiate between a greeting and a compliment by a vast difference in how u expressing them, so when u compliment them, by just saying "good dog" or "good", is not enough, try go like this "Good Girl !!! Beautiful Girl !!! Waaaaaaah !!!! so guai !!!!!! Ooooooooh !!!!! Sayang la !!!!!!!!!! that's my girl la !!!!!!!!!" Stroke and hug them at the same time, or try tummy rub, my GR love tumy rub, so she know when they want one they just gotta do the right thing.

Bringing up a puppy need lots of patient and sensitivity to your dogs need, especially you have a GR whatmore, 2 of them !!!

u need extraordinary patient and love for them,gotta put in a lot of time for them, as all this gotta be clear and understood before they grow up big, as GR normally mature a little bit slower than other dog, my dog is 1 year++ now, still behaving like a baby but luckily she had understand her manners since very young



Hope this helps.







i catch my female puppy when i saw it want to poo in the living room,then i quickly take it to the toilet.but once in the toilet,it don want to poo and want to go out.she just like to poo in the living room.

i success to make my male puppy poo in the toilet last night but only once.then this morning, it back to previous(poo in the living room again)when i put him in the toilet,he dont poo.


Yours in the World of Animal,
Woof Woof