Admin
Moderator




Aug 4, 2005, 1:48 AM


Views: 37065

Puppycom A'Famosa Doggie Get Together Day, Oct 15 ~ 16, 2005

---
Puppycom A'Famosa Doggie Get Together Day - October 15 ~ 16, 2005

We are organizing a Resort Stay at the popular A'Famosa Resort on October 15 ~ 16, 2005 and the details of the Resort Stay are as follow :-

Venue : A'Famosa Resort, Melaka

Date :
Arrival : October 15, 2005 Saturday
Departure : October 16, 2005 Sunday


Agenda ( October 15, 2005 )

Official Check in time is 1600 hours (4:00PM).
(We are trying to arrange for earlier check in time, if possible)
Official Check out time is 1200 hours. ( Can normally be delayed to 1300 hours).

4:00PM ~ 7:00PM - Games and socialising session. Full details will be provided at later date.
7.30 pm - Dinner, Rest & Relax time.

Accomodation :
Bungalow
One Bungalow - RM 640.00 nett with 04 Breakfasts only.The Bungalow has four bedrooms and all are equiped with at least a queen size bed and can accomodate up to 8 peoples per Bungalow. All bungalow will come with a swimming pool (for human only). Payment to be made to A'Famosa directly.

One Room in a Bungalow at RM 160.00 per room nett with 01 Breakfast only. Payment for such booking to be made to Puppycom (Hileytech Sdn Bhd) and we will gather four room booking for one Bungalow booking with A'Famosa.

Official Check in time is 1600 hours.
(We are trying to arrange for earlier check in time, if possible)
Official Check out time is 1200 hours. ( Can normally be delayed to 1300 hours).

Booking is only open to Puppycom Premier Card Holder only. One Bungalow Booking per Premium Member for those in the same family. For individual not from the same family, maxium booking of 2 rooms per Premium Member. Premium Membership must be valid as of October 16, 2005.

Closing date for booking : September 30, 2005 or earlier depending on the number of booking and availability of bungalow.

There is no restriction on the number of dogs you can bring along. Dogs and owners are allowed in most area within the A'Famosa Resort except The Animal Safari and The Water World where pet are prohibited.

We will be organizing several light and simple games where all can join together to have some fun and that may include a treasure hunt with your dog in the Cowboy town. All are being arranged and more will be announced in the near future. Prizes for the doggie games will be contributed by A'FAMOSA RESORT.

For Premium Members who are interested in the Resort Stay can place your booking by filling up the form available at www.puppy.com.my/form-afamosa.html . Once the form is submitted, the representative from A'Famosa will contact you at appropriate time for more details and payment arrangement.

For those who are not yet a Premium Member and would to become one can apply here.

More information on A'Famosa can be viewed at www.afamosa.com. We will also be posting more information on A'Famosa in this thread in the future.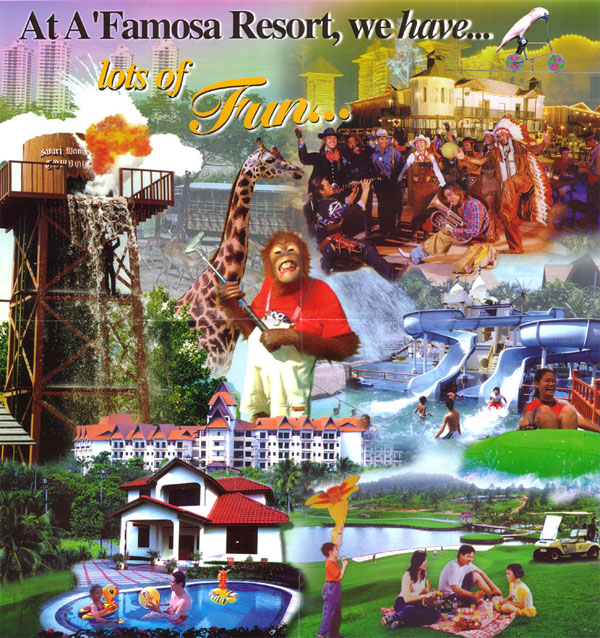 Some Simple Rules :
All dogs are not allow to sleep or step onto the bed or sofa provided.
All dogs are to keep on leash / harness at all times in the vicinity of the resort or in the mobile kennel, carrier or playpen.
Owners are responsible to pick up ALL droppings of their dogs including inside the rooms and public areas.
Owners to ensure minimum noise from dogs at all times.
It is the owner's responsibility to ensure no furniture, beddings, carpets are destroyed, bitten or stained.
Dogs are NOT ALLOWED to use the Swimming pool provided . The swimming pool is only meant for human.
A'famosa will charge an extra RM500 to the dog owner for changing the swimming pool water and to do the Muslim Samak if the owner let their dog swim in the swimming pool.
Aggressive dogs must be use muzzle at all times or otherwise, the A'Famosa Resort, the Organiser or Commitee Members have the rights to ask you to leave the room / area.
Bitches on heat MUST be wearing pants at all times for the duration in Afamosa.
Dogs are not allowed to be left unattended raoming off leash in the room/bungalow.
The organiser & committee member will not be responsible for any mishaps or injuries the dog, owner or visitor may suffer during the event.
The organiser shall not be liable for any form of diseases, illness or parasites the dog may acquire during the event.
The organiser shall not be responsible or liable if dogs went missing at the event either by the negligence of owner or not.



(This post was edited by Khoobg on Sep 23, 2005, 11:03 PM)