leecy
Ultra ALPHA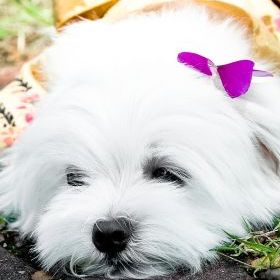 Nov 9, 2004, 10:36 AM


Views: 1230

Re: [leecy] 5 female mix puppies CUTE~ frEE!

---

PetLovers~ the latest update 4 the adoption of puppies (mixed): 2 male adopted, another 3 male reserved. all 4 females r still available for adoption~

Let me discribe those available for adoption a bit.. (I'M BRINGING PUPPY B, D, G BACK TO PENANG)
AVAILABLE FOR ADOPTION: ODI, A, C, J


Odi: she is the 1st puppy we took back home, she is smart, responsive, & very like humans. the tail which bitten by ants is confirmed recovered by vet (Wisma Medivet, Jln Tun Razak) just need some time to let the fur grow back. She very enjoy playing with soft toys too~



A: this is a puppy. yeah, it is just like the puppy u can imagine in ur mind. she has a pretty face, the color of her coat spread evenly, give ppl a very nice feeling when look at her. if u need a puppy to always "talk" to, find her! somemore she always make her pity face 1..



B: she looks very same as my favourite puppy D. she is the fattest lady, the coat's color is real nice, love it! as she is the fattest 1, so u can imagine how much she eat a day. she is cute especially when she is walking.. (BRINGING BACK TO PENANG)



C: she appears to be 1 of the most frequently asked female pup, maybe she so cute, yawning in the photo. when we taking back the pup from the abanoned house, a mother is very attracted by this puppy, maybe bcos of her color. but at last she failed to adopt as her son will take SPM. her color is white + light brown patches, very nice!



D: My favourite puppy's turn!! this is the only male puppy left, my fren is interested but have not confirm to me yet. so if u r interested, pls inform me ok? this puppy appears to be the strongest & fattest pup, & the coat is very nice, i very like him lah, but then still have to give up.. (BRINGING BACK TO PENANG)



G: she appears to be the smallest puppy, she has a special "bulldog" like face, very cute~ as she is the smallest puppy, she always kena buli. haih.. those who prefer medium size dog should consider this "bull". (BRINGING BACK TO PENANG)



J: she looks similar to Puppy I which is so famous, evrybody likes Puppy I & grab 4 it. but, here is a good substitute, a cuty little gal. she has a nice black + white color coat, think lots of ppl will like her as Puppy I is now reserved. middle of her face got 1 white stripe, so0O CUTE~

(HEHE.. REALI HARD TO CHOOSE BUT I HAVE DECIDED TO BRING THESE 3 PUPPIES BACK TO PENANG, I LOVE THEM!)

petlovers r welcome 2 see them, im staying at lagoon perdana apartment, sunway. oposite sunway petting zoo/extreme park. (some says thats y i got so many pets, hehe..) very close to sunway college.

P/S: 3 newly born kittens seeking for new home!

interested? pls contact me at 012-4769839 Chen Yang/Yi Ying






Regards,

Yang