bingo
Novice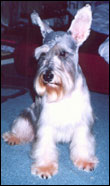 Nov 8, 2002, 7:04 AM

Post #36 of 277 (156509 views)
Shortcut

Re: [elizatye] Grooming of M Schnauzer [In reply to]
Can't Post

---
hi Eliza, nice to hear frm u ! By the way i did the grooming myself! cos i like to design the own pattern heheh!

now i feed him on Eukanuba Lamb n Rice n i didnt give him fruits.. cos scared may be cirit-birit, n i used to give him Boiled eggs n a little sugar mixed with dog biscuits !! is good for fur n i think u shdnt pampered your puppy , give him only dog biscults , he will sure eat when he is hungry n give me the food , make sure he know that is his n eat when u give him , if he just ignore n thougt can have that meal anytime cos u put it there, so u sdh train him like once u give the food , he shd know he have to eat it n wont hanging around n playing, if he dun wanna eat, take it away ! then he will know , when u give him the food , he have to eat , stop playing!

i bought my boy frm breeder, where u used to know how to obey during bath , he wont jumping aorund when i m trying to dry him up! that is advantages of buying frm breeder, i saw that is one breeeder in penang, even teaching her male puppy schnauzer to pee n poo on paper! that puppy is only 2 months old! but unfortunately she dun have female, only have male , so i , actually love that boy so much , so broad the body structure n nice body! emmm may be no fate for me to bring him back!
so i think if u can ,snapped your puppy photo n u can post it here so u can show your puupy to us!!
Anway thanx for your reply Eliza n what brand of dog food u feed on him?