laurentia
Novice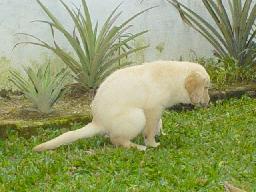 Nov 12, 2003, 7:33 AM

Post #5 of 32 (5834 views)
Shortcut

Re: [hunter] Kid's Pool for GR? Black fur on GR? [In reply to]
Can't Post

---
i found one that i could redeem with my points earned with Real Rewards, the brand is 'Aqua'.. the diameter is 5 ft.. And I also looked at those in the mall.. diameter of 183cm (costs 70 bucks). Hmm, but i dunno how durable are those and if they are suitable for my 'crazy' Elmo.. He might try to dig a hole on the base of pool later..



Actually, the Koi fish was just disappear without the corpse found. Hmm, maybe Elmo buried it..



Ohh, abt the hair.. it's on the side of the body near his armpit area. Ok loh, won't bleach it,

I'll just tell my parents that it's very common to have those blackie hair for GR, so they won't feel that they spent too much to buy Elmo in the first place.

Btw, Elmo looks pretty much like your GR. At least the hair color is so much alike.


Elmo