RealityDreamer
Doggyman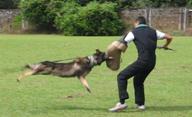 Oct 19, 2003, 5:00 AM

Post #52 of 52 (401 views)
Shortcut

Re: [nancy] How many tricks does your dog know?! [In reply to]
Can't Post

---
aaw...thanks. I'm really flattered



yes, I will be going.

I'll be with Silky (black and white cocker spaniel mix terrier) and Kaizer (liver and white german short haired pointer) and maybe Tyson (brindle bullmastiff)

lol. guess u might hv to recognize my dogs to find me. Think i might be wearing my nametag though.



Hope to meet you too.
,-._,-.
\/)"(\/
(_o_)