steffy1811
K9 Kaki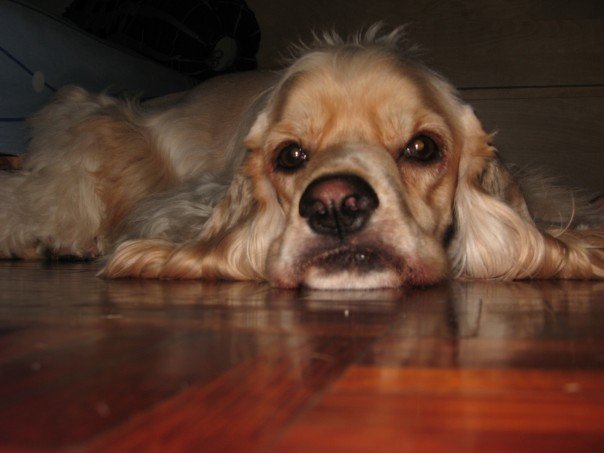 Nov 6, 2007, 12:42 AM

Post #37 of 69 (2634 views)
Shortcut

Hahahah shinning dogs? LOL Rascal sudah botak, no more shinning effect. Hahahahaha

Gizmo is *ahem* too brown to even shine. HAHAHAHAHAHA





Ok lah... kididng lah, but gizmo is *ahem* brown lah. Yesterday I bathed him, wah lau, the water, 1st rinse like teh ais but kurang susu kinda color mannnn

1st shampoo rinse greyish brown, 2nd shampoo rinse only clean! yeah yeah I use shampoo twice! After bathing, clean like after washing ur dishes with Axion!



Anyway, besides the good point and shoot Canon IXUS 7megapixels with some super ISO speed and donnu what kinda lighting effects

, I give rascal the older one Visobits (donnu how to spell) and gizmo the smaller hantu Nutristat (ok the yellow box one. I get confused between NutriSTAT and NutriPLUS

) NO PHOTOSHOP effects ok cos I donnu how to use photoshop. Hahahahah



Both currently on Orjien Adult even though Gizmo is only 8 months old. But previously, EVO, Canidae, Blackwood, Evangers, Science Plan, etc (what I see new and yummy, I buy and let them try lor. Eat until lau sai, go back to EVO lor...hahahaha). LOL I even tried *ahem* pedigree and Alpo before.

Alpo gravy wasnt too disappointing but pedigree pockets IS! What a rip off!!!!





Dont really have a secret lah.....they are like my guinea pigs to my curiosity and hence somehow all the trial and error effect gave them a shinnier coat! Oh oh oh, some say a lot of TLC belly rub will give their coat a good shine too!










*Rascal's Philosophy "Will give the world up for a good nap"
Gizmo's Philosophy "Mine Mine Mine. All is MINE. Sharing is caring..? Whats that?"