ai_ney
Ultra ALPHA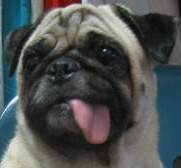 Apr 4, 2008, 2:02 AM

Post #224 of 268 (2728 views)
Shortcut

haha... pugs are the BEST! of coz, i may be bias...



i can tell u tat pugs shed A LOT! so be prepared to vacuum ur hse very often... pugs face folds need to be cleaned every day... their eyes are vulnerable, so be careful when the pug is playing with other dogs... pugs should only go for short walks, no excessive exercise, so they hv short nose... pugs follow u closer than ur shadow, so be ready tat the pug will stick with u wherever u go, they just wan to be close to u... my pug is a lap dog, sleeps on my lap when i am watching tv... pugs are quiet, does not bark a lot, even if they bark, it won't sound like a dog's bark... all in all, pugs are loveable dogs, love human companion n just wan to please u...



be careful, u may fall deeply in love with ur fren's pug after babysitting for 3 mths n may not wan to let the pug go!




Sookie's Photo Gallery
DON'T BREED AND BUY, WHILE HOMELESS ANIMALS DIE.
EVERY DOG SHOULD HAVE A HOME.