shyeow2
Canine Addict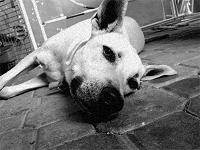 Jun 10, 2006, 9:20 AM

Post #1 of 29 (12879 views)
Shortcut

looking a new sport for your dogs? If your dogs like to run

, and you are lazy to run, this is the sport for you. why not build a flyball box yourself and start training today!





flyball :

Flyball is a relay race with 2 teams total of 8 dogs, 4 dogs on each team. The course set up will be consist of :

starting line<---6ft--->1st hurdle<---10ft--->2nd hurdle<---10ft--->3rd hurdle<---10ft--->4th hurdle<---10ft--->mechanical box.

overall length : 51 feet

The first dog jumps the hurdles and steps on the spring loaded box that shoots a tennis ball out. The dog catches it and runs back over the 4 hurdles. When the first dog crosses the starting line the next dog goes. The first team to have all 4 dogs run without errors wins the heat. Tournaments are usually organized in either a double elimination or round robin format. Double elimination is usually the best of 3 or best of 5. Round robin is usually best 3 out of 5. Each team receives a point for each heat won. The first team to win the majority of heats in the race gains a point for that race as well. The hurdle heights are dependent on the height of the dogs in the team - 4" below the shoulder height of the shortest dog. The minimum height is 8"; maximum height is 16".



training video can watch at groovy site ( www.groovydogsjustwannahvfun.blogspot.com/) and my blog too.



Visit My Blogs!! http://peonythestormrider.blogspot.com/
http://jojothemalaysianmongrel.blogspot.com




(This post was edited by shyeow2 on Jun 10, 2006, 9:22 AM)