OmgPuppy!
Member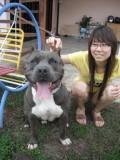 Sep 19, 2008, 8:13 AM

Post #1291 of 1353 (23602 views)
Shortcut

Re: [stanleyee] American Staffordshire Terrier & APBT Lovers [In reply to]
Can't Post

---
Aiyohh . . that mastiff so gek sam . . . That wild boar got turbo one ma, that mastiff so slow, end up u-turn back without anything =.=So now retired d. cocker spaniel, beagle,jrt , they're good in hunting. But its too dangerous. Perhaps hunting smaller animals more suitable for them. Cuz sometimes when the wild boar get surrounded, those dogs still start to attack it. And when the wild boar attack, 85% that the dogs will get hurt, cut.( Dun worry, my uncle bring along his cut-vet ) So smaller dogs are not really suitable lo. Currently vege dogs are most suitable for wlid boar hunting as what he told me. But he said wanna go for a " standard " hunting wohh, so he's looking for a better hunting pedigree lo. Normally he will bring along his rifle , but don't really need it. Cuz he bring along 10 dogs when he go hunting. And when those dogs make that wild boar tired. My uncle will just stab that wild boar with his very very very long parang lo.



Dead Game and Tryin' to Scratch...
Give me victory or give me death,
I will make history and gain your respect.
Take my lesson, or take my life,
Triumph is blemished in the absence of strife.
I have great pride, for I am unequaled.
Win, lose, or tie, there won't be a sequal.
Its unexplainable and seldom viable,
but I am dead game and thats undeniable...