ladee_m
Doggyman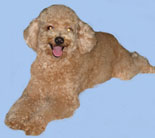 Nov 19, 2004, 12:51 AM

Post #47 of 145 (1696 views)
Shortcut

Re: [nooning] Jungle Trekking @ Tmn Pendidikan Bkt Gasing on November 20th, 2004 - ROUND 36 !!! [In reply to]
Can't Post

---
Hi



Hey u know what, I almost forgot leh...

many many bestest wishes to u and have a smashing great day gal!!!
No ler... both also scared of cold water... but I usually bathe them in the afternoon when the sun is out strong & hot

... Ladee even more so... RuYi actually does not mind the cold but if too long then shiver like mad!!! hahaha... sometimes have to shampoo, then use anti tick, then conditioner... take bathe longer than me ler...


CLICK ON =>Poodles' Friendly Gang List

I wonder if other dogs think poodles are members of a weird religious cult.