sumitra
Novice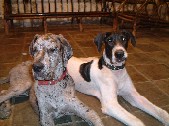 Oct 26, 2004, 4:50 PM

Post #191 of 198 (3036 views)
Shortcut

Re: [May_raymond] Jungle Trekking @ Tmn Pendidikan Bkt Gasing on Oct 24th, 2004 - ROUND 32 !!! [In reply to]
Can't Post

---
Ha ha! Do you really want to know how I bathe them? It is really easiest to put on a swimsuit and hose them down, because there is no way that i am staying dry during bath time! Luckily we have a very private garden, otherwise neighbours will think that I am mad for playing water games with puppies!

They are only 9 months old, great danes grow at a slower rate than other dogs, so they have at least another year of growing to do. They should reach physical and emotional maturity at 2 years of age..

But yes, you'll definately see us there this coming Saturday too!