whity_rabirabit
Canine Addict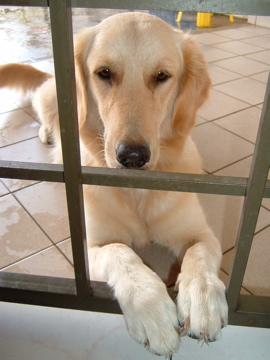 Oct 8, 2004, 4:21 AM

Post #27 of 73 (1834 views)
Shortcut

Re: [nooning] CALLING KAORIIIIIIIII!!!!!!!!! [In reply to]
Can't Post

---
To Khoo,

HAHAHAHAHAHA, too many pups. I'm inbetween Lucky and her puppies territory area at the moment! Good thing she didn't really give birth on RDO Day...some people told me she was supposed to be due on the day!

If she did...then I'd have made the History in this Puppycom Event..like Audrey said...LOLOLOL!!


I'll be shame shame laaaaaaaaaaaaa if that ever happened!!

To Max's Owner ( I forgot your name again ),

Yeap, Thanks! I am now a Grandmother of 9 + 1 monsters now. Lucky now became very skinny with her bigger boobs and now she's damn sexy when she walks...!! (Like me la, except the boobs) She's soooo HooOOooOot!! Bwahaha! Thanks for reserving Lucky No.7 in Japanese...(I think Malaysia is Lucky No.8 right) lol What's your email addie? I'll send some photos to you. Their tails exactly looks like fat long tail like Lucky's!

To Lilian,

Ohhhhhhhhhh yeah! Right! They look like Mr Khoo (Black version of Pugs) now and later I assume they'll start to look like Kurt (Since he committed that he's the father, lol) ......:P:P:P Anyways, I hope they do will change colours at least a little...All black not really fun, KEKE...! Or maybe I shall paint it? <<<Bad Owner OOOOOOOOhohohoho!! But their coat is very silky somehow...unlike Lucky's...it's nice!

To Stanley,

You know what...Lucky was telling me just now that she saw a suspicious guy who looked tall with glasses who seems like coming down all the way from Bangsar...with this long-ear-Beagle...kekeke...