ai_ney
Ultra ALPHA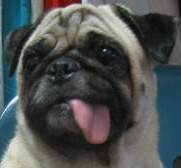 Sep 6, 2004, 10:10 PM

Post #6 of 72 (3074 views)
Shortcut

Re: [Bull Lover] Discussion Room for English Bulldog [In reply to]
Can't Post

---
thank u thank u for the welcome...

sookie is doing good... last gathering was fun, as with all the pug gatherings!

we were not able to invite the pug frens as space was limited... same with this coming sept gathering... maybe in Oct i'll see you again, depending where we hold the gathering...

tmn desa me not going lor...

yalar, i know u r doing ur best to build up an english bulldog community! keep it up! who knows one day soon, the english bulldog group will be as big as pug!



Sookie's Photo Gallery
DON'T BREED AND BUY, WHILE HOMELESS ANIMALS DIE.
EVERY DOG SHOULD HAVE A HOME.