icezcream
Ultra ALPHA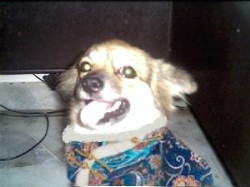 Aug 18, 2004, 7:36 PM

Post #278 of 301 (2159 views)
Shortcut

Re: [yuanyuan,musashi,a_evie] Jungle Trekking @ Tmn Pendidikan Bkt Gasing on August 14th, 2004 - ROUND 22 !!! [In reply to]
Can't Post

---
yuanyuan,
yea ler...our guys very anti social wan...prefer to continue to sleep thru sat morning than to teman their furry "daughters"..*sigh*




musashi,
same here la.shy shy to talk at first. then go home, check online to see who is who. next meeting only start small conversation...hahhahaa...paiseh!!



a_evie,
hahahaa...our beloved cnn newscaster!! when are you guys gonna join us?? use the hill while we still can!!

-= There are no bad breeds, just bad breeding=-

Got Dalmatian??Click Here..
Got Mixed Breed??Click here...