HLYap
Dog Kichi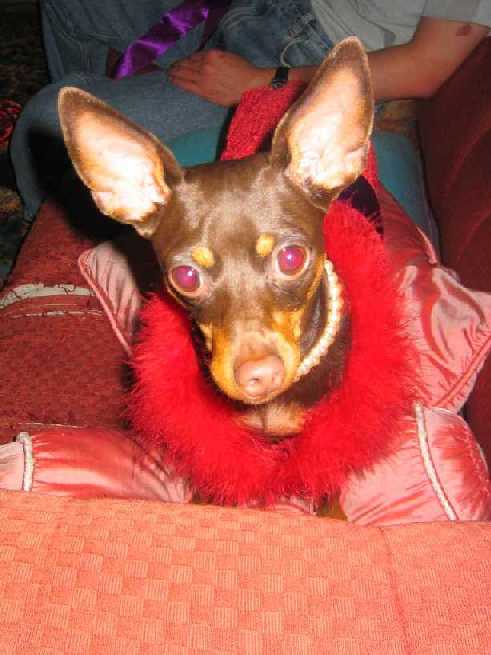 Oct 19, 2005, 8:56 PM

Post #260 of 300 (3404 views)
Shortcut

Re: [yst323] CHIHUAHUA-PP LOOKING FOR FREN [In reply to]
Can't Post

---
Hey, there is an article in the toy dogs forum about the myth of the teacup chihuahua, if you haven't seen it.

The vet also told me that some of the dogs are so teensy coz food is withheld from them when they are young (if 2 dogs in a show are equally good, then all things being equal, the more dimunitive Chi will win) - they are not starved per se, I don't think, just not given as much as they should be when they are pups. That's not right, I don't think. My view is that all pups should be given as much dog food as they are willing to eat so that they may achieve their own, personal, genetic growth potential. To me, it's more that than a matter of preferring them to be or to conform to a particular size for their breed. I don't mean lah that they should be fed so much that they become overweight!

Vet also commented that if my Chi grows too big, then she won't look like a Chihuahua! I don't really care about that; just want her to be happy, healthy n achieve her maximum growth potential - genetics will determine how large (size wise) she eventually ends up, I guess!!

I must confess that I am a bit obssessed about the health aspect (n believe that proper care n meeting a dog's dietary requirements are part of the building blocks for a long n healthy life), becoz my MinPin (see pic on left) died 17 weeks ago today when she was barely 3.5 years old, from chronic liver failure - the vets reckon, after the postmortem, that t'was most likely due to a congenital defect. I know that these things are nigh impossible to detect, but still can't help being a bit paranoid..



Re my Chi's (her name's Tasha) current weight, dunno.. My home scales are not sensitive enuf!!

Guess we'll have to pop by the vets at some point just to weigh her.. How old are your Chis now, BTW? I assume that they are adults now, based on the date of your first post.

My 4 times a day comment was only in respect of growing pups lah!

Re feeding pups, I've found that different people/books advocate different things. Some say up to 4 times a day, some say several small meals throughout the day, some say free-feeding. I'm working too, so at the mo, she is fed in the morning, then I leave some food out for her coz I'm at work the whole day (she doesn't eat much of this), then when I return from work, I sit with her n try to ensure that she eats a decent amount, then again 4 hours later. When she's older / an adult n doesn't need as much food, I'll feed her twice a day too - once each morning n night. Vet says that twice a day is actually preferable to once - from a gastric / digestive aspect..

But even then, I'll still leave some dog food out in a bowl (I did the same thing for my MinPin n she never touched that, but ate when I sat with her - I know this isn't good, from a training aspect, n that I spoilt her..), coz m worried that she'll be hungry if I'm home late from work, or that something (touch wood!) may happen to me n my family may be unable to get to her quickly enough - just don't like the thought of my dog being hungry and having no food when she wants it!



Was originally concerned coz I looked at the feeding chart at the side of the dog food bag, n it says that puppies of x weight should be fed y amount of food per day, n I weighed the amount which Tasha should be eating (based on her weight at that time), n found that she wasn't eating as much as suggested! Vet said tho' that one can't really follow the said chart coz it's general n meant to apply to different breeds anyhow, n assured me that Tasha's weight n general health are fine (phew!). Was still curious tho' to find out how much other Chi pups are eating n what their weight was at around the same age.



Regards,
YHL