lois_wong
Enthusiast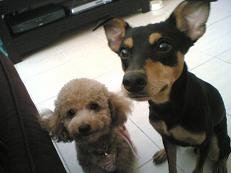 Jul 27, 2004, 6:18 AM

Post #433 of 469 (21976 views)
Shortcut

Re: [minglmy, vicfion, phoenix, yuanyuan, ichisz, koogiebus,BomBom,charlene,ritchie_dog, khoobg ] AGENDA for Puppycom A'Famosa Doggie Get Together Day [In reply to]
Can't Post

---
Hi Organiser,
First of all, thank you so much to the organiser for making this trip so happening, we really have a good time together with the 'MASTER' & 'slave', heheheh....hope more events coming to this forum so we will know each other better...

Ming Yang & Terry: Lemme tell you the story after you left ya, hehehe...Well, after that we went for the truck ride that we can go to see the freely lion, tiger, deer, giraffe, etc..this is about 20 min...after that we went to the monkey island...hahaha this want was fun coz we take photos during ferry ride...this ride made all of our shoes wet coz the ferry imbalance the water came in....except kurt coz he's our camera man and we laughed till cannot stop...hahah everyone especially those who wore sport shoes...hahaha oppsss.. i remind FIONA..kakakakka *LOL*. After that, all of us have to rush back to pack all our stuffs coz time not allow us to watch the Wild Wild West show...we miz it lo...*SIGH*...Anyway, overall is fun for this gathering..hehehe

& thanks again for bringing us to the satay celup stall...
Fiona: Sorry ya remind you about the ferry ride,hehehe...nvm lo..at least we enjoyed ma and make this trip so memorable ler...hope to see you again in next trip but must bring kids la ya? hhehee

Geraldine, Kurt, YuanYuan & Brandon: Wahahaha...we really crazy making Brandon to open his gold mouth!!! Oh well, YuanYuan you muz bring him more to join us make him more talkative ler...Btw, Ming Yang reminded me the *CHILI* ahahahah *LOL*...Kurt let's challenge again one day in KL ho?? Anyway, i really have a great time with you guys, hehehe

lilian, audrey, charlene,pei shy & bf: i really have a great time with you guys too, hope there's more gathering that we can go crazy & have fun together muahahahha

ivan & kelly: nice meeting you 2 ya, heheh although i didn't manage to intro myself but ming yang told me your name lo..hehehe hope to see you in other gathering ya..
**DON'T FORGET TO POST OUT THE PHOTOS OR EMAIL TO ME YA???**
Many many thanks again....

(sorry ya if i miss someone in the list, hehehe


)


warmest regards,


lois


hug from cAsPeR boy


kiss from Heidi gal

(This post was edited by lois_wong on Jul 27, 2004, 6:23 AM)