Kevin Chuan
ALPHA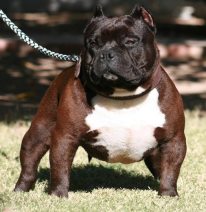 Jun 29, 2004, 1:20 AM

Post #25 of 96 (26060 views)
Shortcut

Re: [RealityDreamer] American Staffordshire Terrier [In reply to]
Can't Post

---
Hi RealityDreamer... The samson that you mentioned was the one that was in Mid Valley... If I'm not misstaken the owner is Mr. Amere Singh, anyway, I'm not too sure about that.

If you have Samson's owner's contact, kindly SMS to me... I can't wait any longer....... just feel like want to call him to ask for more information on AmStaff.

I'm sure you guys will like AmStaff if you really understand this breed, they are a very brave, faithfull, tough, strong and yet a very gentle dog, especially those who has children at home, I will strongly recommend this dog as a pet and as a guard dog. Trust me.... I have stayed in US before, my friend owns 6 AmStaff, and I have followed him to their National American Staffordshire Terrier Event in 1994...