kesuke
Doggyman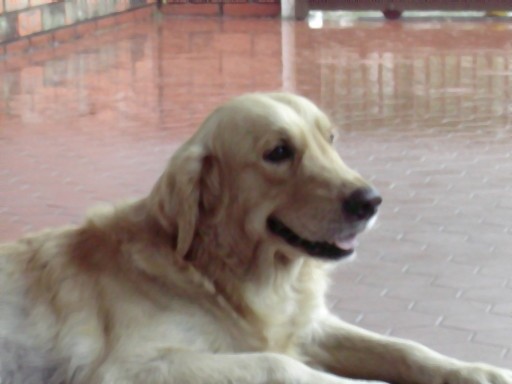 May 8, 2004, 12:21 AM

Post #173 of 399 (2927 views)
Shortcut

Re: [vicfion, ALL] Northern Dog Breeds Fan Club [In reply to]
Can't Post

---
copied from vijitha with permission.

here is a very detailed and well written experience of an owner with her malamute. i hope you guys find it informative coz i sure do!


am hoping that she'll drop by.


---
Hi, They are not hard to take care of BUT they are hard to take care if one assumes they are a typical dog. Huskies/Mals are not typical dogs. Esp not with obedience, they are very stubborn. They are very challenging to train. And will continue to challenge (varies for each dog). Huskies are medium size dogs so in some ways they are "easier" than Malamutes to handle while walking or training. Huskies are labrador sizes 23" (males) at shoulder. Malamutes are 25" for a standard Malamute (males, but less for females). Malamutes have 2 types, Kotzebue (standard pedigree) and the M'Loot (giant over 30" to shoulder). Sebastian is the standard Kotzebue but he is about 28" at shoulder. They are very very strong animals so they need to be trained at the start. As their breed, they love to pull and chase. When they are young, they are as playful as any puppy. They fully mature mentally at about 3 years, physically about 2-3 years. Each dog is different in terms of energy and calmness. It depends on the personality and the environment that they were brought up in. If the Huskie/Mal has been brought up to mush and lived in a pack, they are usually a lot more energetic than the average domestic dog. Sebastian is a typical domestic dog. Yes, they require exercise like humans and other dogs and they do get bored easily because they are bred as a working dog. Yes, they can be very destructive. They are not "hard to take care of" if you are dedicated to the looking after it and training it (consistently). They are very demanding with attention. They love people and love to be loved. They do not like to be alone, "pack" dog. They need exercise because they have a slow metabolism compared to other dogs. And mentally they need to be stimulated - socialising, runs, walks because of their intelligence, they will get bored and relandscape the garden and dig holes (my garden has been relandscaped). Not all Huskies/Mals are noisy. They do howl like "woo woo woo" but don't bark often. Sebastian growls sometimes but very very rarely barks (and it is a horrible bark because Mals don't know how to bark - they usually learn it from other dogs) Sebastian runs with me in the morning every other day. On other days he goes to the park to play ball and to socialises with the other dogs or we go for walks. He is exercised every day. But you will find other owners have different routines. If it rains, we do no exercise.

We also work 9-5 jobs and sometimes are away on w/ends. We got Sebastian as a pup so he got use to our routine (us being at work). When one gets a dog, each owner has to give it the best it can but with breeds like Mals and Huskies, they do require attention. As they get older, like all dogs, they do calm down from what they were when they are younger. So it varies with each dog. But if you truly want one, I am sure you will be able to decide if you want a lifestyle change. They are beautiful creatures and they love hugs and they love you back too. Talk to a breeder, as not all Huskies/Mals are very active. They all require attention and love but some are not as physically active as others. Perhaps consider getting a female as they are less energetic than males BUT they are more dominant than males. Some Huskies/Mals are quite docile but the breeder should be able to tell this to you. If you go to a breeder for Mals or Huskies ask the important questions about the breed. With all big dogs - Mals, they are prone to hip dysplasia. They also have other problems ie hot spots (usually environment caused). Another question to ask is their temperament. The breeder should be able to tell you what their temperement is like. You don't want a cute pup to turn into an aggressive dog only to be put down later on. The breeder should do basic test with the interaction of the pup with other pups, other adult dogs, toys, food etc. Male Huskies/Mals "blow coat" every year, bitches blow coat twice a year. And if someone has asthma, this breed is not recommended. There is fur EVERYWHERE during this time so vacumming should not be a hassle to the owner. The more you put into your pet, the better the pet will be. I hoped in some way I have helped understanding the breed. They are definately worthwhile if you are up for the challenge. Let me know if you have any other questions

---


Sorely missed and always remembered - Beloved Billy
Penang lang? Click here!!