PSD
ALPHA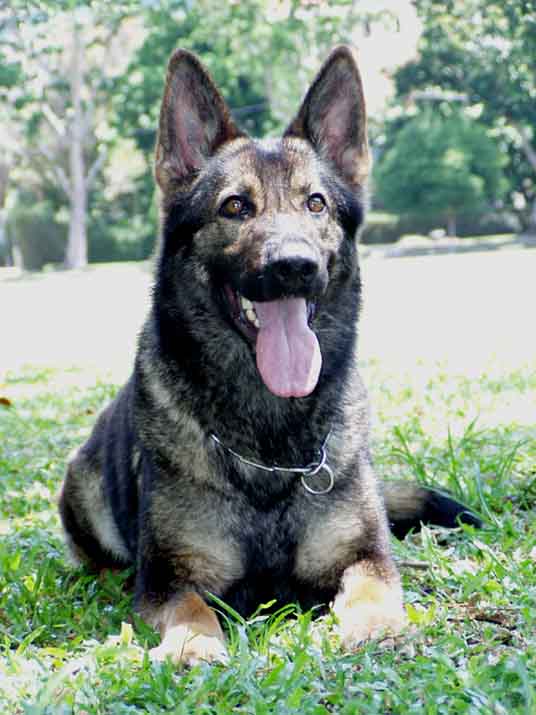 Oct 16, 2003, 11:45 PM

Post #192 of 251 (5703 views)
Shortcut

Re: [Kowpa,Polluxx] germanshepherd [In reply to]
Can't Post

---
Dear Kowpa, Pollux,

I had seen that there has been very interesting postings here between both of you. Just would like to add some opinions on these so that things can be better understood.

Aggression Drive and Active aggression, is a very misunderstood thing in todays training. I am not about go against Helmut Reiser in his book on this drive he mentioned but todays training had evolved a lot from his methods which was revolutionary in his time into clearer definition of drives in a dog. before I go to the simplified version of drives, I would like to emphasise more on the Aggression drive.

Aggression drive is much related to survival drive. In the wild, when there is a confrontation, a dog will not straight rush into a fight. This simply does not happen. What instead will happen is that the dog will show teeth, growl, deep continuous bark, raise hackles, stare into direct eye contact, move slowly forward but still keep the distance. These acts are designed to scare away the threat. Confrontation does not usually happen as both predator will not want to risk being injured. Injured predator in the wild means a dead predator. Therefore with this in mind, a dog working in aggression drive will more likely flee from a confrontation than bite. Unless he is cornered or tied to a situation that he cannot go anywhere else and had no choice but to bite as last option of a survival drive.

Today, methods of SchH training since Helmut Reiser revolutionary training book had become so much more easier to be applied where Aggression drive is still needed but is only used as an intermediary to transfer prey drived dog into a fight drive (some call it active aggression) Therefore today, the world of SchH training generally accepts that prey drive, defense drive and fight drive are the needed drives to produce a SchH dog.

As to Aggression drive = dangerous dog, I do not think so because aggression drive is part of a survival drive. For simple explanation, dog will only be in survival mode if there is a stimulus that threats it. Then when the dog acted in aggression drive, it starts as a warning that keep your distance or I will bite. When threats is no more, then it is over and nothing happens.

Personally, I feel that the mere word "Aggression" itself is not a good term to use correctly in today's world. I would preferably call it "defense drive" to be more appropriate, accepted in todays SchH world and easier to understand.

Also SchH dog = Dangerous dog, no way as although we eventually channel the dog from Prey using dfense drive into fight, a SchH dog does not act if there is no Stimuli (the helper) and presence of a prey (the sleeve) because of conditioning. SchH dog or people call sports dog in degrading terms are not poor nerved dogs or dogs that cannot do protection in real life. These dogs are tested in all its drives and control phases to show that it is a true working dog and can be breed surveyed and bread. These dogs has all it takes to perform as a high level PSD,PPD and such. The only thing as pollux also mentioned, these dogs needs some retraining off the sleeve for them to bite in real life. So a Sports dog is not dangerous to the public.

However a top SchH dog like the top 10 in BSP will never be a PSD nor PPD fulltime. Reason being they are very sought after dogs to remain in the sports and sports pays better than PPD or PSD. There is nothing that says a PPD,PSD,SchH dogs are more better than the other. Each dog have to be valued as an individual based on its own attitude, inborn and polished drives and the kind of training it gets. What I'm trying to say is, top PPD, top PSD and top ScHH dogs are very hard to tell apart when they work in those 3 drives in their respective work. The only difference is human greed......best dogs usually goes to sports where it pays better.......

I will let you all ponder on this.

PSD

Quote
"Take this trouble for me:
Make sure my shepherd dog remains a working dog, for I have struggled all my life long for that aim ."

Rittmeister Capt. Max von Stephanitz (1864-1936)