PSD
ALPHA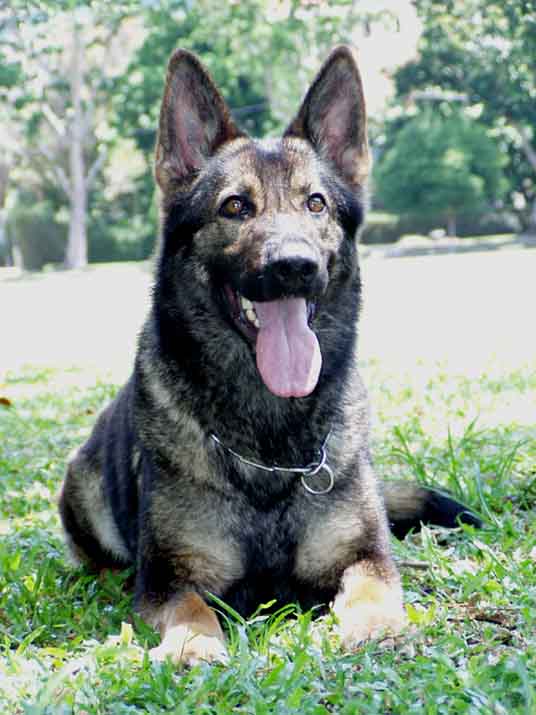 Sep 27, 2003, 6:27 PM

Post #66 of 251 (7480 views)
Shortcut


==================================
FIGHT DRV :
is the Interaction of Prey & Defense Drv with
the Forwardness of Prey & Intensity of Defense
=====================================


Agreed, To help understand. Dog working in Defense drive is a very stressful dog but dog working in Fight drive is not. This is because he sees the bad guy, he get mad at the bad guy and he wants to give the bad guy a piece of his mind.



An easy example of prey drive, defense drive and fight drive in use is easier explained this way.

Let just say you go for karate class, you learn all the techniques. (this is prey since in sparing there is no life and death stress)) But one day while walking down the road you are faced with a mugger with a dagger in his hands. Your blood pressure rise and the heartbeat risen you then are put into a situation of should you run or should you fight using the techniques you learned in prey (this is defense drive)
Then if you decide to take flight and flee you are a prey monster. But if you get so mad with the mugger for pointing the dagger at you and wanted so bad to teach him a lesson and give him a piece of your mind then you are working in Fight drive.(I borrowed this defination which I think easiest to understand from Frawley.



Yup thats wht I was thinking off when I got my pups, I called it stacking up my odds...

..he-he !


You are correct. Good lineage will narrow the margin of error in getting a good dog but good dog need to be handpicked based on their drives, hardness and sociability. which can be seen in puppies based on testing and long observation. Therefore the good breeder will be the best person to know the puppies potiential.

BTW, the breeder must be someone into the training/sport arena so that they know what is needed for that purpose.




"German lines are slower in defence maturation while Czech are earlier."

=====================================

Any idea wht abt DDR lines...?


Same as german lines as a general rule




"To do too early will push the dog into avoidance but to do too late will locked them in prey."

====================================

Now like wht Azman mentioned earlier, how to perceived or our dogs accurately....! I know this comes with experience but any advice will be most helpful since I dun wanna screw up this wt my 1st working GSD...


When the grip is excellent, full and hard. He carries the prey like no tomorrow. You can't get the sleeve off him easily or none at all....that is then your cue to do defense agitation starting with civil agitation in place unknown to the dog. This is the 1st step into defense training(no bites yet please)





"Depending on the threat level ,courage and its training, your dog will react differently whether to fight or take flight. This is normally where sport dogs, real protection dogs and Police service dogs starts to differ"
====================================


Azman, do you want to be my helper with my "sports dog?"

The difference is all in training methods and ability of trainers to bring up the fight. Once a dog is working in intense fight drive then they are no difference from each other be it protection dog, Police dog or PP dogs. But if you compare 100% prey monster sports dog to PP dogs then I fully agree with you

So guys, normally who do u thk will last the distance !
My best guess will be Police Service...b'coz of the stressful test but might put my money on Mondio Ring if given a choice ... seen a demo video, I thk that's a killer for sure. . !


Bro, SchH also sudah pening kapla to introduce and you want Mondio Ring ah?

Anyway it must be an acceptance of thoughts that there are bad sports dog as well as good ones and there are bad police dog as there are good police dogs. The only difference is that since Police dogs Are specially selected from puppy testing and special inprinting process their margin of error is very very small. But if you compare good sports with a good police dog then you will not see much difference there. This is why the difference in price in top grade tested and graded working dog puppies against the average dog from the same litter.


BTW Azman, do you have an e-mail adress where I can contact you in?

PSD

Quote
"Take this trouble for me:
Make sure my shepherd dog remains a working dog, for I have struggled all my life long for that aim ."

Rittmeister Capt. Max von Stephanitz (1864-1936)