ichisz
Enthusiast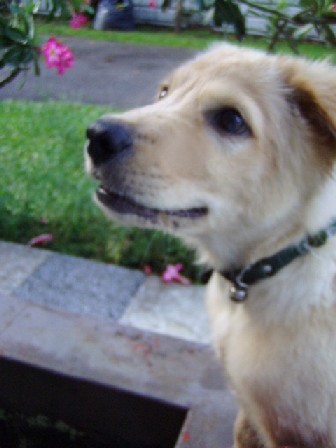 Feb 27, 2004, 11:20 PM

Post #201 of 204 (13655 views)
Shortcut

Re: [Khoobg] Obedience/Agility Workshop by Mr. Tan Pak Song [In reply to]
Can't Post

---
Just want to express sincere thanks for organising both the sessions.

I can see that Pak Siong is a very experienced and gentle dog handler. I did bring my dog for training at the padang merbuk, but very seldom does he ever pay attention to me, cause he's much more interested in other people and dogs, and nipping other dog's butt! Little did I know that I shouldnt push him hard if he's not interested... which I did, and ended with paw prints all over my shirt.




I did trained him a little prior sending him to padang merbuk. He was ok at home: he knows sit, down stay, shake-hand, fetch, let go (although I need to wrestle or tug-o-war with him a little) and 'sleep' (some commands in mandarine so that my mom can oso understand and remember the command). The only thing I never taught him at home was 'stand'! How silly of me! Consistency in commands is very important. Like my poor Yen Yen, he knows the command 'fetch' but my brother sometimes says 'go' for fetch, and the two ends up staring at each other! As this 'staring' session becomes frequent, I noticed my Yen Yen has started to sometimes ignore my brother's commands... ISH!!




Anyway, I have identified what my Yen Yen needs most. Socialisation! I will try to bring him out whenever there's a gathering on puppy.com.



By the way, does anyone knows how to get ur dog to fetch a frisbee? Yen Yen only chases the frisbee, and once it drops, he just sniffs at the disc, and then skips away. I get him interested in the frisbee by having a game of ball fetching.