Vince7
Dog Kichi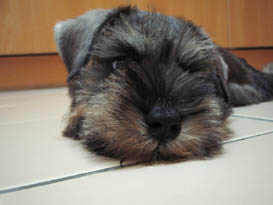 May 27, 2004, 2:11 AM

Post #34 of 136 (4392 views)
Shortcut

Re: [kc1356] bull terrier anyone? [In reply to]
Can't Post

---
Thank you for your story of Terry, it reminds me how powerfull BT can be. "Gladiator of the canine world" is what they are sometimes called. Although in today's world, BTs are known more for their comical attitude & friendliness towards human, we must not forget their history in the fighting pits. Still, I strongly believe that BTs are not natural born KILLERs. Normally, any other dog can be aggressive. In my opinion, the behavior of any dog is based on how they are brought up & the exposure they got. The right training is needed for any dog for it to be well behaved. Even so, we still can't guarantee we have absolute control over them when natural instinct take over. I think basically it is how they are built that strikes fear in people who do not understand them (just look at their massive jaws & shark-like teeth, muscular body but very agile).

I can understand the situation of your father & Terry the BT. I think Terry is very loyal & protective towards his master (I assume Terry is a male). Yes, I like Terry. It's a sad ending for him but I admire his courage. You said Terry is descended from a family of hunting BT in Australia? Hmm, I guess they can be some kind of hunting dogs, there's some terrier blood in them still. That explains the prey killing instincts (in Terry's case, the snake is the victim). This is something BT owners have to watch out for because that prey can easily be someone's pet! I find that STEEL home your father built for Terry a good example of BT's destructive ability. Very funny! Oh yeah, remember to "puppy prove" your house before getting your bully! Unless you want to come back home to find your cute little bull terrier has eaten half of the house!

In my limited knowledge, I think BT has weakness in their ears but not eyes. Even if their vision is poor, I'm sure they can easily make out who you are with their super nose. So I guess your father has been fooled by Terry there, because I'm sure Terry will know he's home long before he gets near the door... hmm, maybe that's just one of the funny things BTs do to entertain their owner (or maybe themselves)? Terry : "Hehe, daddy is coming home, I think I'll hide here behind the door and scare the hell out of him, hehehehe..." anyway, just my imagination.

Er… I'm scared when you said "If I have the intention of building my BT into a killer, I will make sure he is equally a loving, caring and obedient killer if not better." I really hope you're not planning to train your BT as a KILLER.

Anyway, I've found a good description on BT from AKC that says…
It was a dog for sportsmen in times when life in general was more strenuous and of rougher, coarser fiber - when dog fights were allowed and well attended. As fighting dog or "gladiator" of the canine world, such a dog had to be of great strength, agility, and courage. Withal, he was bred by gentlemen for gentlemen, for those who had a great sense of fair play, and who scorned the liar and the deceiver in any game. The dog was taught to defend himself and his master courageously, yet he was to seek or provoke a fight - and so the white variety became known as "the white cavalier," a title which he bears with distinction to this day.Contrary to the opinion of those who do not know him, the Bull Terrier is an exceedingly friendly dog; he thrives on affection, yet is always ready for a fight and a frolic. The preference in this country is for a well-balanced animal, not freaky in any particular, but well put together, active, and agile - a gladiator of perfect form.

Forgot to ask you, are you getting a male or female, Bull Terrier or Miniature Bull Terrier? They are basically the same, it's just the size factor. But I've heard that the mini BT has more "character" packed into the small body than the standard one! As for me, I also thought of getting a BT so that I can have a partner to do some exercise (tummy's getting bigger already). I wish to have a bully now but… I can't imagine leaving him alone for 10 hours in weekdays with nobody at home. Now, I'm planning something & hopefully I'll be ready for a bully in a year or two. That's it for now, good luck to you on your search.

"A dog is the only thing on earth that loves you more than he loves himself." -Josh Billings