nicky_spykeaz
Doggyman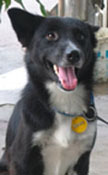 Mar 30, 2005, 8:58 AM


Views: 2706

Re: [.Lab & j-wong] mixed breed n mongrel

---
That why i was telling this author that
There is no such thing as pariah dog only bad onwer..

You guys misunderstood or what?

I dont like ppl address their dog as pariah because to me it is such unpleasent words to said or type..

So i am not a person who called or name their pariah...

Cheers ya,

Nicki the Devil live by the reputation of the name



boBby is a craz3 car PassaNger
Fat FaT other case Elegant Car GuEst
What make Me?
A LoYal huMan Driver....



NoBody is Prefect, Guess What i am Nobody
Nice to meet YOu

(Bobby+Nicky craze JT memBer)

BoBby San DogstEr
http://www.dogster.com/?158414
http://spykeaz-devil.blogspot.com/

(This post was edited by nicky_spykeaz on Mar 30, 2005, 9:09 AM)