Breed: Shih Tzu

Description:
Utility Group
Small
Height: 8-11 in
Weight: 9-16 lb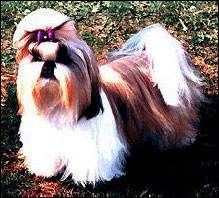 Temperament: gentle, affectionate, playful, alert

Origin: China during the 1600Ęs. The Shih Tzu makes a great companion animal for all types of families. Their personality and size make them perfect for apartments, families living within the city or country, homes with or without yards. The coat is long and thick, and has an undercoat. They do shed. Since their hair is so long, it needs regular brushing attention to keep it free from tangles and knots. A little time spent brushing their coat each day is well worth it. Color: this breed's coat can come in all colors.

Long-lived, the Shih Tzu can live to be 18 years old. Their life span ranges from 10-18 years. Training: early socialization with consistent obedience. Exercise: needs minimal daily exercise. Good with children, but they really should be supervised when playing with them. They are good with pets and other dogs. Hair is long all over this small dog's body. Tail is carried curled above the back, and is covered in long hair. Face has the appearance of having a mustache and a beard upon it. Should live and sleep indoors. The Shih Tzu is a good watchdog - alerting the home of strange noises or people.
Possible health concerns: thyroid disorders, renal dysplasia, hip and eye problems, von Willebrand's disease.