Breed: Maltese
Description:
Toy group
Small
Height: 8-10 in
Weight: 4-7 lb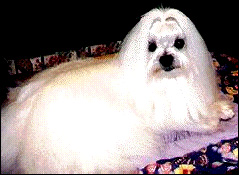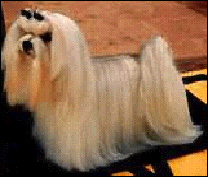 Temperament: friendly, alert, gentle, affectionate, clean, suspicious of strangers.

Origin: Malta. The Maltese has been around for 28 centuries! They are definitely one of the oldest breeds. This dog was a favorite of royalty. The Maltese coat is long, straight, silky, shiny and thick. Their coat color is white. Tail is covered in long hair and it is held curled over the back. They should sleep and live indoors where they are near their family members. Exercise: requires minimal daily exercise - following his or her master around the home is quite sufficient. Training: socialization, obedience. The Maltese can be challenging to housetrain; requires patience. Good with older children. When around children, it is recommended that they be under constant supervision. Ideally they are raised around children from puppyhood.

Grooming: requires frequent grooming care, brushing or combing on a daily basis to keep coat looking its best. Coat does not shed. Long lived dog, up to 18 years. Lovely companion animal for elderly, single adults, families living in apartments or a home without a yard. Will bark at suspicious noises and strange people; good watch dog.
Possible health concerns: slipped stifle(s), eye infections, hypoglycemia, teeth/gum weaknesses. It is important to seek out a reputable Maltese breeder in order to acquire a healthy companion for you and your family. The Maltese is good with pets and with other dogs.