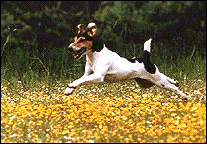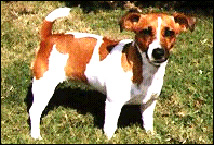 The Jack Russell Terrier was developed by Parson John Russell in the last half of the 19th Century. The Parson's passions for dogs and for foxhunting were well known. He used his own terrier "Trump" as the starting point for a special strain of working terriers. The Jack Russell Terrier emerged as an excellent fox hunter: small yet strong, fast enough to keep up with both the hunter's horse as well as the fox, and eager to flush out its prey from tight or narrow places in the bush. Although this breed has adapted well to family life and enjoys human companionship, he still needs and loves daily outdoor exercise and activity. The breed was accepted in the AKC in 1998.

Height: 10 - 15" (25.4 - 38.1cm)





Weight: 12 - 18 lbs (5.4 - 8 kg)





Coat Type: The breed's hardy coat may be smooth (photo on right), broken (photo on left) or rough. Colors include black and white, tan and white, or a combination of all three; white should always be the predominant color. Grooming requirements are minimal.





Temperament: The Jack Russell is courageous, lively, loyal and takes well to firm training.





Health Problems: The Jack Russell is usually a healthy dog.





Special Interest: After Parson Jack Russell died, the breed suffered a decline in popularity in England; fortunately, it has made a remarkable comeback. Distinct breed clubs, all sharing the same breed standard, exist in England, Canada and the States.