Breed: German Shepherd Dog

Description:
Herding group/Working
Large
Height: 22-26 in
Weight: 65-100 lb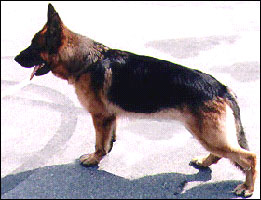 The German Shepherds' temperament can be described as calm, steady, loyal, and protective. They are aloof, self-confident and easily trained. The German Shepherd originated in Germany and was bred to be a herding dog. This breed is one of the most familiar in the world. Germans used them for years as a trustworthy and hardworking farmhand. They were introduced into England and America around the time of the First World War. Today, the German Shepherd performs a variety of important duties. His intelligence lent him perfectly to the working role of police dog, guide dog, search & rescue dog, drug detection dog, guard dog and herding dog.

The German Shepherd's faithfulness makes him an excellent companion and family pet. They are good with children and should be raised with them from puppyhood. German Shepherds are naturally protective of their "pack" (or your family). Even though these dogs are great family pets, young children should never be left unsupervised with dogs. Socializing the puppy is important. Breeding plays a crucial role in the temperament of the German Shepherd. They thrive on regular exercise and mental stimulation. They do fine as housedogs, but require daily exercise and attention. If the owner is uncommitted, the dog will be difficult to manage. So, your German Shepherd will need training as well as plenty of positive attention. Training: early socialization and obedience.

The coat of the German Shepherd is of medium length, is harsh, and may have a slight wave. Their coat does shed. Regular grooming attention is needed to keep coat healthy and remove dead hair. Colors: black, grey, black saddle w/tan, blue, liver.

Ask the breeder to introduce you to the puppy's sire and dam, if possible. Avoid nervous/shy puppies. Concerning your dogs health, OFA certification is important since hip dysplasia is a problem within this breed. (OFA is the Orthopedic Foundation for Animals). Even if certified, all dogs can be predisposed to hip dysplasia. Reputable breeders will replace the puppy or offer full money refunds. Pups will reach close to adult height by 10-18 months of age and will continue to fill out up to 3 years old.

Possible health concerns: hip dysplasia, bloat, skin conditions. The German Shepherd is good with pets within the home and good with other dogs.