Breed: Bullmastiff

Description:
Working group
Giant in size
Ht: 22-27 in
Wt: 100-120 lb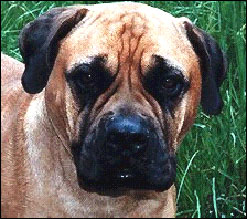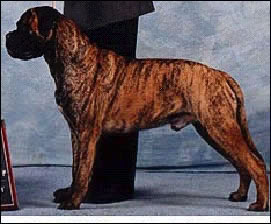 Temperament: loyal, brave, affectionate, obedient, calm

This breed originated in Great Britain around the 1800Ęs. They were used as guard dogs for gamekeepers. Over a century ago, there was a great deal of illegal poaching occurring on private estates. Many gamekeepers were being injured and even killed by the poachers. They needed a night guard dog to aid them with their duties, but more importantly, to protect them.

This breed was created with the crossing of Mastiffs and Bulldogs. They are a powerful, muscular dog with a large skull and short muzzle. The hair coat is short and hard, lying close to the body. They do shed and require minimal grooming care. A quick grooming session with a soft brush will help rid the coat of dead hairs, keeping the coat shiny and healthy. These grooming periods will be greatly appreciated by your dog - they love the individual attention! Color: red, fawn, brindle, often with black mask upon the face. Their tail reaches down to their hocks. They are good with children, but generally not good with other pets and they can be fairly aggressive toward other dogs. Exercise: need daily exercise. Their diet needs to be monitored so they don't become overweight. Training: early socialization and obedience training. The Bullmastiff makes for a wonderful guard dog or watchdog. The Bullmastiff truly enjoys spending time with the family. Quite protective of home and family.