Breed: Beagle

Description:
Hound Group
Small
Height: 13-15 in
Weight: 18-30 lb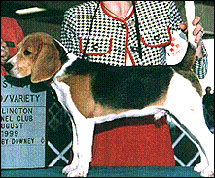 Temperament: alert, lively, affectionate, determined, stable

The Beagle is a hound with a history that can be traced back to ancient Greece. This breed was a favorite of the British monarchy. These dogs were bred to be fearless hunters of fox. In America, the Beagle was used as a hunter of rabbit. The Beagle has a wonderful, even temperament. They make fantastic family pets since they will bond to the entire family, not just one member. While Beagles are great with kids, they do need to be socialized. Dogs should never be left alone, or unsupervised, with young children.

Beagles are alert, active and quite outgoing. Beagles need companionship since they were bred to be a pack dog and need a lot of time outdoors. If neglected, they will find other, often destructive, ways to entertain themselves. The Beagle is a highly intelligent dog, and an excellent problem solver. If not properly fenced, he/she will find a way to roam.

Training of the Beagle is important in order to have an obedient beagle. The owner must establish herself/himself as the pack leader.
This breed can tolerate temperature extremes, from the summers of Arizona to the winters of New York. The Beagle is inexpensive to care for and require little maintenance. They are very clean animals. The Beagle will eat themselves to death if given an opportunity, diet needs to be monitored closely. The average life span of the Beagle is 14 years. Seventeen years is not unusual.

There are 2 Beagle varieties: those under 13"; and others 13" to 15". Colors: most common are the black, tan and white. There are also red/white and pale tan/white. Coat: short, smooth. Training: socialization and obedience. The Beagle is good around other dogs that are pets within your home, but they are not as good with non-canine pets. They are non-aggressive towards other dogs.