The Australian Terrier, originally known as the Broken-Coated Toy Terrier was developed in Australia during 1800's to work around farms, as a ratter and watchdog. It is descended from British terriers, and counts in its ancestry the Dandie Dinmont Terrier.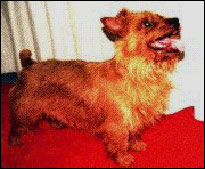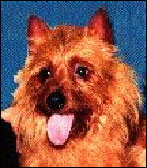 Height: 10" (25.4cm)
Weight: 12 - 14 lbs (5.4 - 6.2 kg)
Coat Type: The coat is a coarse, hard, straight hair, with a distinctive ruff about the neck. Its grooming needs are easy and only involve some brushing and a bit of trimming around the feet and ears.
Temperament: The Australian Terrier is feisty and dutiful, and makes an entertaining, endearing companion. It is well suited to life in the city and the country.
Special Interest: Although it is one of the smallest of the working terrier breeds, the Australian Terrier is still tough enough to go after snakes.
Classifications:
AKC: Group 4 - Terriers
CKC: Group 4 - Terriers
KC: Sporting - Terrier Group
FCI: Group 3
ANKC: Group 2 - Terriers