Breed: American Cocker Spaniel

Description:
Sporting group[Gundog]
Medium
Height: 14-15 in
Weight: 24-28 lb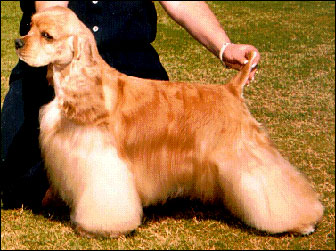 The Cocker Spaniel evolved in America as the smallest of the sporting breeds. This dog is related to the English Cocker Spaniel, but they are considered totally separate breeds. They were first introduced to the U.S. in the 1880Ăs. Their name comes from the quarry they hunt, wood cock. With the appropriate training, the Cocker Spaniel makes a great gun dog and hunting companion. They love being outdoors as well as in the water, and are happiest with an active family that can provide him or her with all of the daily exercise he/she demands.
Today, they are a popular companion animal. The Cocker Spaniel adores children, and makes a great family pet. They are excellent with children. Since the Cocker Spaniel easily and readily adapts to any climate or living space, they are equally happy in an apartment as in a large yard. The Cocker requires moderate daily exercise. The Cocker Spaniel's temperament is friendly, exuberant, and outgoing. They are sensitive and extremely anxious to please. They do not handle stress very well.
The coat is of medium length, is silky and can be straight or wavy. Regular grooming is necessary, as is an occasional trim. Their coat does shed minimally. This breed comes in three color varieties: black, particolor and ASCOB. The particolor variety must be two definite colors and one of them must be white - black and white, red and white, brown and white, and roans to include any such color with tan points. ASCOB stands for ˘any solid color other than black. ASCOB colors - varies from light cream to a dark red; the red including brown and brown with tan points. Ears need regular ongoing care and attention since they are susceptible to infection - especially if they spend a lot of time in water. They do require socialization and obedience training. The Cocker Spaniel is good with other pets within the home and with other dogs.